While browsing through a local electronics store, I stumbled upon an unusual bicycle headlight. Bicycle headlights come in a variety of shapes, sizes, features and prices. Yet, they all share one thing in common: they rely on battery power to function.
Who hasn't been out riding on a dark night only to have their headlight batteries die unexpectedly? Once this happens, most cyclists will devise a plan to avoid being caught in the dark with limited visibility. Extra batteries are one option. A spare light is another. But, what if you could ensure a working light with neither of these options?
In comes the High Power Bicycle LED Dynamo Flashlight. It is rainproof and never needs batteries. The LED lifetime is 100,000 hours and the life of the unit is five years. The flashlight's weight is 73.5 g. It mounts on the handlebars using a standard light mount.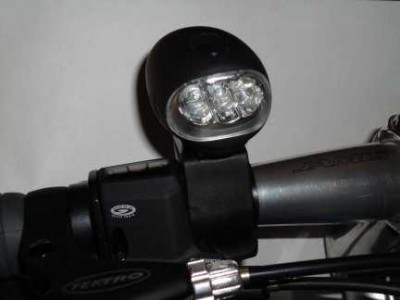 Unlike conventional lights, this light relies on cranking for power. Whenever you want to charge it, you pull the small crank lever out from the bottom of the light and rotate it for a short period of time. If you use one of the three LEDs, cranking for one minute will provide approximately ninety minutes of runtime, while using all three LEDs will provide forty minutes of runtime (in both steady and flashing mode). A full charge (about three minutes of cranking) will allow you to use three LEDs for approximately five hours.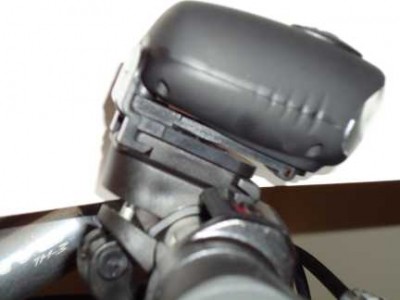 The best feature of this light is the flashing mode. Although the three LEDs provide enough light for urban riding, this light is best for visibility. The flashing mode is surprisingly bright.
For the technical among us, the max. luminous flux is 6 Lm and the max. brightness is 50000 Mcd. Granted, it's not a top performer in the realm of headlights, but when you're out in the middle of nowhere and need a light, you'll never have to worry about draining your batteries.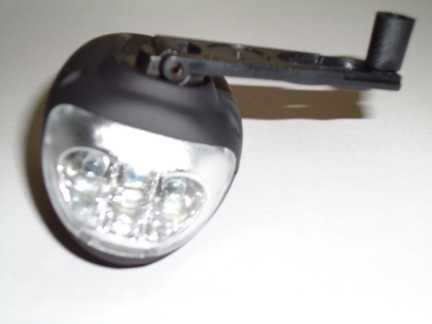 The principle behind this light is that it uses a 3-phase brushless generator to generate the power which charges an internal 80 mAh/3.6V NIMH battery. The LED lighting modes can be changed from 1 LED to 3 LEDs to flashing mode by pressing a button on top of the light.
Best of all, this handy light can be purchased for a grand total of $9.00. (Yes, you heard right.) I'm using this light on my commuter/utility bike as a flashing front light. Despite lacking the intensity of my road bike's $150 DiNotte headlight, motorists see me very well. My advice… renounce the bling and invest in a workhorse light with a small price tag and inestimable peace of mind.