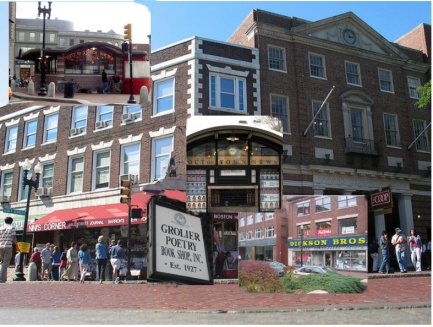 Years ago, I always locked my bike, a Motobecane Super Mirage, to the rail in front of the now defunct WordsWorth bookstore. The front wheel was either removed and locked with a U-lock or taken with me. Harvard Square had so much character back then. It was not a hotbed of theft. Each week, I left my bike locked in the same spot as I walked from store to store.
Despite the illusion my U-lock posed (it was a Kryptonite of the Bic-pen-unlocking variety), my bike was not really safe. Aside from the useless lock, the components and accessories were unsecured. Locking a bike, at that time, was a mere formality.
I wore the Kryptonite key around my neck, dangling from a ball chain. I had no reliable pockets and didn't want to leave the key in my backpack where it could fall out, never to be seen again. I was afraid of being unable to unlock my bike. I had an MBTA pass, but it was a last resort, and I couldn't bear to be without my bike. The thought of it sitting locked in a strange place all night, cold and alone, exposed to the elements, was unsettling.
There was an unquestionable familiarity between that bike and me. I rode it everywhere. Day and night, rain, snow or shine, we were as one.
Most weekends I headed over to Harvard Square, hunting for books. In between reading passages of books I could not afford, I went to WordsWorth's window to see if my bike was still there. Even though it was always where I left it, I heaved a sigh of relief each time I saw it untouched.
Then there were the days pangs of fear prompted me to take my front wheel indoors. It was in everyone's way. I tried to move it when people came through the aisles. No one ever said anything to me. I was a kid. And I wondered whether they would have been as understanding had I been older.
With my trusty wheel at my side, I treated myself to a salad bar or muffin with coffee, depending on how much money I had to spend. I loved the salad bar restaurant. Never again did I find a salad bar with as many topping choices. I heaped a plate full of lettuce, broccoli, sprouts, tomatoes, eggs, and a variety of things I could not name, but whose taste I enjoyed nonetheless. With each meal, I guzzled coffee. It may not have been good for me, but it gave me the lift I needed to ride home late at night, often past midnight. And, as an occasional treat, a slice of carrot cake finished off the meal.
In the summer I sat alone at a table, my bare legs marred by black streaks of grease and dirt from my wheel, looking like a vagabond. In those days, I didn't wear a helmet. So, my longish hair was only matted from sweat and wind. There was no point in combing it, although I did try to smooth it with my hands.
At night, I sat on the brick wall across from WordsWorth watching agile, acrobatic performers or listening to unsung street musicians. Some of them performed regularly, yet I never grew tired of them. Denizens and tourists strode past, lost in an idyllic world of chatter, laughter, and festivity. Too many times, I could not tear myself away from the life of the square and found myself riding home when I was dead tired.
Once I mounted the bike, my legs fell into the rhythm of the flat road leading out of the square. Thankfully, there were no hills for the first part of my ride. The cool summer night air slapped me in the face, making me more alert. As I rode through the darkness, I marveled at the lack of cars. I liked riding city streets at night when I could have the nearly naked road to myself.
As I approached home, I began to feel sluggish. Thoughts of collapsing into my soft bed overtook me. I pushed myself to finish the ride, slid off of my bike, and carried it inside where it would await tomorrow's travels.