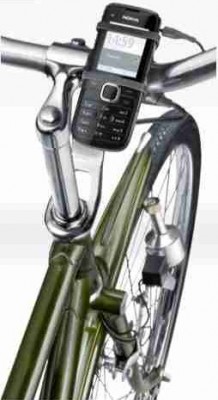 Talking is not high on the list of a cyclist's priorities, particularly when riding alone. Why then would anyone want a pedal powered cell phone charger? If you think about it, there are numerous uses for such a device. And, that's exactly what Nokia is counting on. They have recently released a kit for the European market that allows cyclists to generate the electricity needed to charge a cell phone as they ride.
The kit uses a bottle dynamo for bicycles, which (unlike some dynamo accessories requiring hand winding) attaches to the front wheel to generate power as the wheel rotates. Charging starts at ~6 km/h (4 mph), with maximum output achieved at 25 km/h (16 mph), and stops when the speed reaches 50 km/h (31 mph).
As Nokia explains on their website:
Charging time depends on cycling speed, for example a Nokia 1202 with a 860 mAh battery can be charged with about 20 minutes of cycling at a speed of about 10 km/h (for the Nokia 1202 this would mean approximately 57 mins talk time or 74 h standby time).
The kit, which can be installed on a wide variety of bicycles, has three components: a bottle dynamo, a charger and a phone holder. The bottle dynamo is mounted on the front of the bike while the charger and phone holder attach to the handle bars. You can remove the charger and phone holder and take them with you.
Nokia touts the environmental and cost saving advantages of a dynamo phone charger. As they point out, the charger pays for itself by saving the cost of electricity otherwise required to charge a phone.
But there are uses for this product beyond what their marketing materials mention. Being able to charge your phone anywhere, regardless of whether you're near a power source, is ideal for emergencies. Imagine yourself inconvenienced by a prolonged power outage with no way to charge your phone. A twenty minute bike ride would allow you to talk for an hour. Alternatively, you could have three days of standby time so that people could reach you. This charging method could be used indefinitely to stay in touch with the outside world.
Under less dramatic circumstances, you would never have to worry about a dead battery when receiving a call or text message during a ride. In our always connected world, being accessible is crucial. Aside from the communication aspect of Nokia's phone charger, there is also the ability to use the phone's GPS or listen to music through the phone's speaker while riding, without draining the battery.
Of course, this charger only works with Nokia phones, leaving owners of other cell phone brands out of luck. In Europe, where people use bicycles far more often than in the U.S., there is a higher demand for this product. After all, once you have access to cycle superhighways, extending the benefits of commuting ride time is a no-brainer. However, a dynamo phone charger compatible with a variety of phone brands might find a market in the U.S. as well.
The Nokia cell phone charger kit is a practical accessory and represents yet another advantage of cycling over motorized transportation.