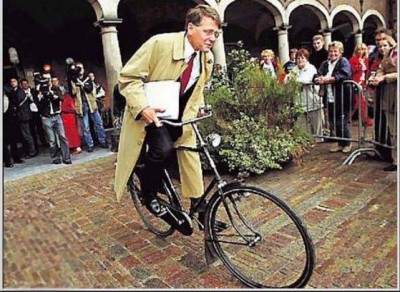 Who would have thought that finding a new sub-$1,000 bike would be such an endeavor? Years ago, most bikes were made out of steel. Cromoly was the norm for high-end and most less expensive bikes. Maybe I should have bought new bikes more often to keep up with the trends. But, I love to ride, not obsess over the latest bike fads. Bikes are meant to be ridden. Well cared for they can last for years. A well aged bike is like an old friend, familiar, reliable and riddled with life's blows and dings.
As far back as I can remember, I have loved the feel of a steel bike: how it glides with silky smoothness; how like a sponge, it soaks up shocks and bumps; how its classic character allows it to dramatically fade into the sunset. Nothing else feels quite the same.
Bikes have purposes and personalities. One is rarely enough. So I set out to find a bike to fulfill the role I had created for it. My budget was limited. At first, I thought I would spend around $400. This seemed adequate for a basic transportation bike. I didn't want it to be too cheaply made; I also didn't want it to be attractive to thieves.
I began by doing some online research. I've always liked to have a general idea in mind, with some specifics about which models I might want to test ride. Using this method, I could call ahead to local bike shops to see if they had any of the chosen bikes in my size. Surprisingly, this proved a challenge for more than one reason.
Unlike years ago, when bikes were measured in standard increments of inches or centimeters, an explosion of creative sizing had occurred. Manufacturers not only manufactured bikes, they manufactured sizes to suit their own vision of the bike. No two frames were sized alike. I found this out the hard way when I asked to test ride a bike which turned out to be two frame sizes too small. My estimate came from calculations based on the size of my road bike. I was way off.
After contacting a few shops, I set aside time to visit each one. My plan was to browse through their stock and get an idea of what bikes were available. The first shop I visited was well regarded and particularly favored by racing types. This should have been a deterrent, even though their selection was large and varied.
When I got there, I started walking through the rows of bikes to identify models in my price range. The bikes looked different due to the paint jobs and components. On closer inspection, the bikes began to look more alike. For one thing, every bike in my price range was aluminum.
Now, I have nothing against aluminum. It has its advantages; I just don't care for the ride. I find it too harsh. Rather than coasting, it jitters into turns. Its edgy feel is better suited to those who like light, crisp, quickness in a bike.
Beyond the ride, steel is stronger than aluminum, even if at times it's a bit heavier. When keeping a bike for a long time, strength can be a factor. Crashes and daily wear and tear are borne better by a rugged steel bike.
My personal preference led me to assume that I could find a few steel models in my price range. Surely, there were other cyclists who also had a preference for steel. And bicycle manufacturers would want to meet the demand. Soon, a sales person asked if I needed help. Not really. But I did want to know whether there were any steel bikes in my price range. Imagine my surprise upon hearing that there were none.
We walked to an area of the store with a rack of hybrid and sport bikes. The salesperson proceeded to show me several models. Looking told me nothing. The best thing to do was to take them for a ride.
After taking a couple of bikes out, I reaffirmed my predilection for steel. I decided to keep browsing. A second look through the racks revealed a steel bike. However, it was an unusual type of urban bike made by Masi. Aesthetically, it was appealing and the ride was decent. Yet, the price was over $1000 and the saddle and grips had to go. Dollar signs lit up in my eyes as I calculated the cost of changes this new bike would need to make it rideable. As much as I wanted a steel bike, this one was too expensive and too flashy to lock anywhere – so I ruled it out.
Trips to several other shops yielded the same result. All of the bikes in my price range were aluminum. It began to feel like a conspiracy.
I went home and did another search for steel bikes. Most of what I found was custom bikes. They were all over $1000, just for the frame. Consequently, I began to realize that I would have to spend more than my original budget of $400. Somewhere between $500 and $1,000 seemed more realistic.
Many search terms later, I found a 2009 steel bike for sale at a local shop. It was a Bianchi Valle. I rode it. It was OK; still, it was a road bike and I wanted something more upright for urban riding.
I'm not one of those people who likes to ride drop bars in the middle of a busy city. It's too difficult to see around you and anticipate the wild maneuvers of stressed out drivers. Mentally, I put the Bianchi on my "maybe" list and decided to keep looking.
Then, by chance, while browsing through an online store, a bike I stumbled upon caught my eye. The manufacturer was Jamis, a name I had heard in passing, but was not familiar with. It struck me as a friendly-looking bike, both traditional and modern simultaneously. Some research made me more curious. I viewed the current and previous year's models. This bike fit a niche. It stood alone, a steel bike in a decidedly aluminum world. A manufacturer had bucked the trend. How could I not think more highly of them?
Three of the bikes in the 2010 Jamis Coda line were under $1,000, although one just barely made it. All were steel. Having finally found a steel bike under $1,000, I decided to give this company my business.