Safety is a major concern when sharing the road with motor vehicles. In addition to obeying traffic laws and carrying tools for breakdowns, planning for emergencies is vital to a cyclist's well-being.
To maximize the odds of getting the help you need in an emergency, it's necessary to consider the worst case scenario. What would you do if you crashed your bike in an out-of-the-way place when riding alone? What would you do if you were injured – or worse yet – lost consciousness? How would anyone know who you were?
Making your identify clear and easy to find is the best way to resolve such problems. Numerous products exist to fulfill this function. Each is designed differently, so considering your personal needs is the best way to find the right product.
Recently, I was given an emergency ID at no charge, with no commitment on my part to express an opinion about it. I agreed to check out this product because I owned similar products and wanted to see how this one compared.
The product I received is a wrist ID, designed with athletes in mind. It is made by Road ID. I visited their website a few years ago when I was shopping for a sports ID. I considered several products before buying one.
At the time, I chose another product because I found it difficult to accurately gauge this product's features from the information provided on the manufacturer's website. As often happens when shopping online, there was simply not enough information – especially close-up photos – to meet my shopping requirements. I say this as someone who has been shopping online since the mid-90s.
I received a Wrist ID Sport model customized to my specifications. I did not use the company's recommendations for what information to engrave on an emergency ID.
I spent a few weeks testing this product to evaluate its strengths and weaknesses.
The first thing I noticed upon receiving it was the minimal, recyclable packaging, which was a plus in my book. The Road ID came on a folded sheet of cardboard with information and instructions printed on all sides.
Before removing the Road ID from the cardboard, I inspected the satin finish stainless steel ID. The stainless steel surface and sharp black letters made it readable in bright and dim light. There was one angle, directly under a light source, where glare was a problem. This wasn't critical since, overall, the ID was easy to read.
One minor issue was the size of the print; it was smaller than expected. I don't know whether this was related to using all six lines available for text or if it was just the standard font size.
My first impression of the Road ID was that it was sturdy and would take a fair amount of abuse. In the event of a crash, the weakest point appeared to be the elastic strap holding the metal ID to the band. This would only be a problem if something got caught behind the metal ID tag and pulled it away from the band.
The band is similar to a nylon sports watch band. At first, I thought that the band would be stiff, but after a short break in period, it conformed well to my wrist. The end of the band has a durable rubber strip embossed with the RoadID logo. The solidity of the rubber makes it easy to grasp for opening the velcro closure with one hand.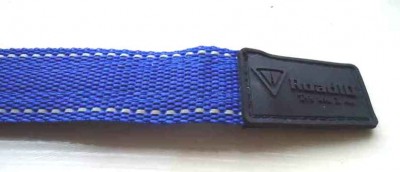 Another plus is the reflective stitching around the band for added visibility when riding in low light conditions. The white print on either side of the stainless steel ID is also highly visible when shining a light directly on the band. This feature draws attention to the word "ID," making the product's purpose more obvious.
I'm very particular about the comfort of anything I wear. I wore the ID while riding my bike and around the house to test its comfort. For the most part, it was comfortable. However, the heavy duty buckle bothered me when I wore the ID under a winter jacket. I overcame this problem by loosening the ID and wearing it on the outside of my jacket's cuff.
The comfort of the buckle depends on the wearer's wrist size and whether they have a bony or fleshy wrist. My wrist is on the bony side, which may have made me more aware of the buckle.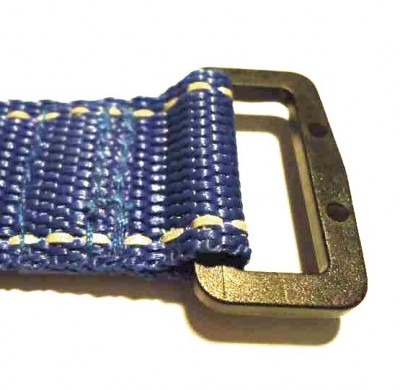 As concerns the Road ID's usefulness, it would be best for those who want to provide their name and emergency phone numbers or those with a common medical condition. Anyone with complex medical problems should look for a product specifically designed as a medical ID.
There are also some privacy issues to consider when engraving medical information – or other sensitive information – on something everyone can see. A balance should be struck between identifying yourself and maintaining your privacy.
While the Road ID did not save my life during the several week trial period, it was functional and a welcome addition to my arsenal of bicycling safety products.