Maybe it's just me, but I'm becoming paranoid about the lengths anti-bicycling zealots are willing to go to prevent the integration of cycling into American society. Opposition to bike lanes is stiff. Funding for bike infrastructure is viewed as a waste of money by those who perceive cycling as a pastime rather than a form of transportation. But you know they've gone too far when they start trying to disguise bicycle parking accommodations.
Usually, I plan my cycling trips including locating a safe place to lock my bike. When I'm out, I take note of the presence of parking meters, thick-poled signs or bike racks. The presence of one or all of these things factors in to my decision on whether to ride my bike to that location.
As I often do, I was recently reading local bicycling news. I try to stay abreast of happenings in Boston and the surrounding towns since I ride throughout the Greater Boston area.
On the Newton TAB blog, I came across a post about the installation of new bike racks. Oddly, I ride through Newton all the time and I didn't notice any new bike racks.
I followed a link in the TAB's post to the blog of a Newton resident who blogs about Newton's streets – including bicycle accommodations. There I found not only the location, but photos of some of the new bike racks.
My first thought was: are they kidding? I've been riding a bicycle nearly my entire life and I wouldn't have recognized these bits of metal as bike racks. I wondered how many cyclists, particularly those who are not activists, would use these structures for locking their bikes.
To that end, I'd like to conduct a little experiment in this blog post. I will post several photos and will ask my readers to determine which of these images represents a bike rack and which is a work of art.
Let's begin.
One day, some odd metal structures appeared on the sidewalk in front of a major national bank, which makes its home in Newton Center. For quite some time, they've had construction going on in the area in an attempt to beautify this part of the city.
My first thought was that the metal structures were meant to be decorative. But what did they signify? They appeared to be a fork, a knife, and a spoon. Why they were installed in front of a bank was a mystery to me. Was this some sort of symbolic gesture about providing cutlery for feeding the watering chops of financial fat cats? (You never know with modern art.)
What do you think: are these sculptures meant for locking bikes or are they art?
It would never have occurred to me to lock my bike to these things. Had I not read comments written by Newton pro-bike activists and a Newton Alderman, I wouldn't have guessed that these "bike racks" were donated to the city by the B Street Restaurant, just around the corner from the bank, on Beacon Street.
Rumor has it that the cutlery was supposed to be installed near the restaurant, but it was decided (by whom I do not know) to locate it in front of the bank instead. So far, in my travels through Newton Center, I have not seen one bike locked to these "racks." Without signage, it might be a while before anyone catches on.
Then, thanks to the guidance of the Newton streets blog, I headed down to the Newton Free Library to see the new racks installed at that location. After parking in the lot, I walked around the premises looking for new bike racks. Despite having seen a photo on the blog, I couldn't find a bike rack. I expected it to be near the parking lot since that's where most people enter and exit the library.
After a brief walk to the front of the library, I spotted some metal structures. Could these be bike racks?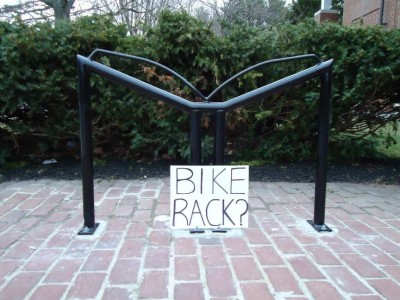 What is this? Art or a bike rack: you decide.
Give up? According to the City of Newton, this is a bike rack. It is shaped like a book to blend in with the library theme. Very clever. But, will anyone park a bike there?
As I headed back to the parking lot I spotted another metal structure. This one had more detail which would make a really great disguise for a bike rack. It was also created on the library theme.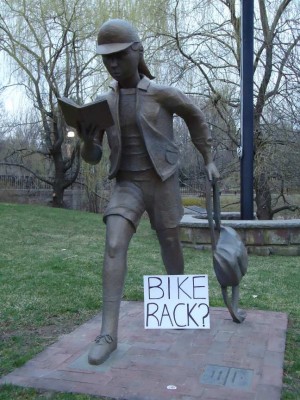 Would you lock your bike to this? (You could if you had a cable lock.) Time's up: you have to write down your answer.
This is a sculpture, not a bike rack – although I'm not sure how it differs from the black book. Both have legs and both have books.
Back in the parking lot I saw more metal structures. In fact, there were several black, upside down U's around the perimeter of the parking lot. They had more of the traditional U design typically seen in modern bike racks.
If I were riding my bike to the library, I would probably pick one of these U's to lock my bike to. They look safe. And, if anyone questioned me I could say that they looked just like standard bike racks, only smaller.
Just for fun, I took a spin around Newton to look for other bike racks. In a shopping center, I found another metal structure. Does this one look familiar?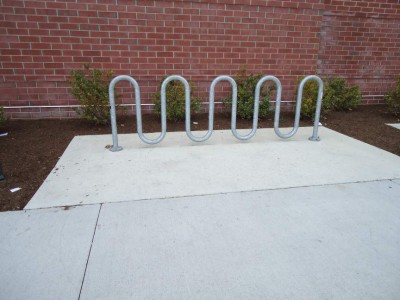 Of course, this is a standard modern bike rack. Anyone could recognize it. I've seen bikes parked there so it looks as if the message has gotten across.
Alongside a movie theater I found this rusted metal object. On closer inspection, I noticed that it was not secured to the ground.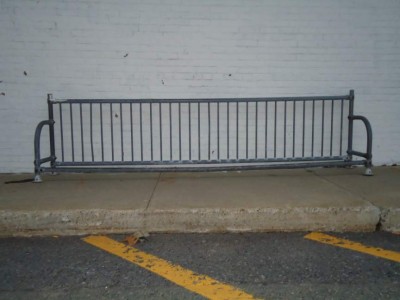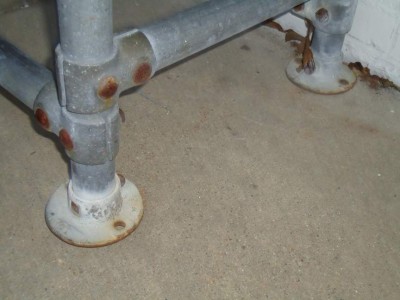 Last question: what do you think this is?
It's an old-style bike rack. This type of rack was traditionally found outside of schools and other public places where a bicyclist might want to park. Until recently, this rack was situated in front of a movie theater. With the installation of bike racks at the end of the shopping center (a good distance from the movie theater) they decided to plant shrubbery in lieu of providing bicycle parking.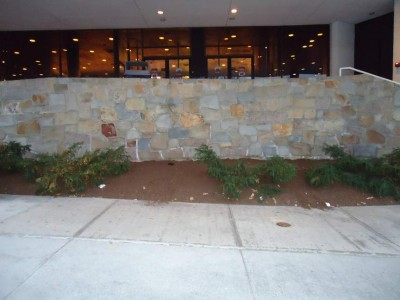 How did you do on this test? My guess is that the people reading this blog will score higher than the general public. Many of us have locked our bikes in strange places – out of necessity – so disguises won't be a deterrent to secure parking. Should we take bets on how many people will actually use Newton's newly installed "bike racks?"