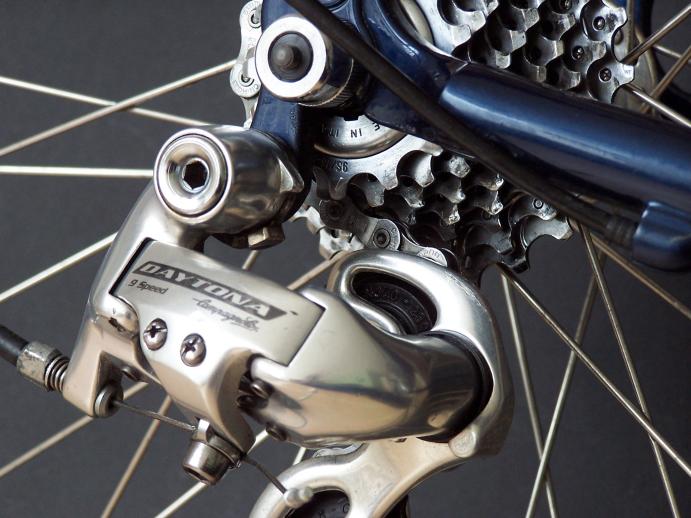 Cyclists buy products expecting them to be checked for quality. Most of the time they are. But, what happens when unsuspecting consumers purchase products which they think have passed quality control tests, but which haven't passed any tests at all? This is exactly the case when consumers unwittingly purchase counterfeit bicycle parts.
The problem of counterfeit bicycle parts is widespread. Even though there has always been counterfeiting of bicycle parts, the rise of the Internet has worsened the problem by creating large marketplaces where the products can be sold. Consequently, millions of dollars worth of counterfeit products are sold every year.
Apparel is the most commonly counterfeited product since it's easy to imitate. Selling inauthentic apparel is unfair to consumers who think that they are purchasing brand name products. What's worse is the sale of fake carbon fiber components and frames. Such products are frequently found on sites like eBay — and as cheap knockoffs — they can pose a safety hazard. For this reason, some companies track online auctions for counterfeit parts. Tracking online auctions is a time consuming process which doesn't address the problem at the source. To combat the source of the problem, bicycle part manufacturers have used the services of legal teams in Taiwan where many of the counterfeit components originate.
According to an article in Bicycle Retailer and Industry News:
"Brands with global appeal and high-end cachet like Pinarello, Colnago, Specialized, FSA and Ritchey tend to be prime victims for impostors.

The industry's shift in production to Asia over the past decade and increased competency working with carbon fiber among factories in Taiwan and China has also contributed. The difference between quality, high-strength carbon and cheap carbon may not be easily noticed by the untrained eye, Coffey noted, and the potential profit gained by using low-quality material and selling it online to unsuspecting or undiscriminating consumers is significant. As the problem has grown into a global epidemic, with fake product being sold in Asia, Europe and North America, companies are ramping up their efforts to control supply out of concerns over safety and liability—and damage to brand image."
FSA has launched a PR campaign to inform retailers and consumers about the problems with counterfeit products in an attempt to limit sales. They released an official communication on the subject where they said the following:
"Since 2009, Full Speed Ahead (FSA) has been actively and aggressively pursuing manufacturers and re-sellers of counterfeit FSA branded products. Counterfeit parts originating in China pose a pervasive safety problem for the bicycle industry as such parts fail to meet industry quality standards in addition to our strict manufacturing specifications, and are untested and made of inferior materials.

Full Speed Ahead would like to publicly warn both consumers and retailers that purchasing FSA products through unauthorized online marketplaces, or other such re-sellers, bears serious risks that the goods may be counterfeit and often unsafe to use. Full Speed Ahead sells its products to bike manufacturers for assembly onto many of the best performing bicycles in the world. We also sell our products for aftermarket sales to some of the best distributors and retailers in our markets. We strongly urge consumers to only buy Full Speed Ahead products from bicycle retail stores, or authorized online retailers. We also recommend that bike shops only buy Full Speed Ahead products from their recognized bicycle parts distributors, and bicycle brand partners. Again, buying our FSA products from online marketplaces, or from foreign trading sites runs a very high risk that they may be buying a counterfeit product.

Full Speed Ahead is committed to pursuing and litigating any entity that knowingly or unknowingly sells, distributes, or manufacturers counterfeit goods which infringe our trademarks, designs, or patents to the full extent of the law."
Learning about the extent of the counterfeiting problem should be  disconcerting for cyclists as most people are unaware of this problem and would never consider checking parts purchased online for authenticity. Even if cyclists knew to check parts for authenticity, in many cases, close comparison of a part's specifications would be necessary to identify counterfeit items.
Shopping on sites like eBay and Alibaba.com offers an opportunity to find great bargains on bikes and components. But at what cost? At the time of purchase, it's almost impossible to determine whether the items offered for sale are authentic. And, there is really no good way to protect yourself from inferior goods.
It would be a shame to lose out on the spectacular deals auction sites  provide. Still, safety must come first. And, armed with the knowledge that counterfeit bicycle parts are being sold globally, cyclists should consider the value of paying more for the peace of mind that comes with buying parts from a trusted source.
The only hope consumers have is harsh legal action against counterfeiters by manufacturers and the use of technology to identify authentic products. Such actions could eradicate the counterfeit market. Companies like Dahon — who manufactures folding bikes — have already begun to take steps to identify their products as authentic.
"After numerous problems with intellectual property violations and patent infringements over the years, Dahon introduced a hologram label to help ensure the authenticity of its bikes. Starting next year, every Dahon bike will bear a serialized 3D holographic label as proof to dealers and consumers that they're buying the real thing. Tracking numbers will help Dahon identify vendors selling counterfeit merchandise with forged holograms."
There has been much discussion, in recent years, about the safety of various bicycle materials including carbon. Some consumers have been influenced by catastrophic failure reports involving carbon frames and forks. Those consumers often avoid carbon for fear of injury. Other consumers have become wary of carbon because of fork and frame recalls due to manufacturing defects.
Now, we have to add low quality counterfeit products into the mix as a reason to worry about carbon failure. No matter what consumers do, there will always be some risk of equipment failure associated with cycling. Demanding the production of high quality products from manufacturers, and shopping through reliable sources, are the only ways cyclists can increase the odds of ending up with safe bicycles and components.