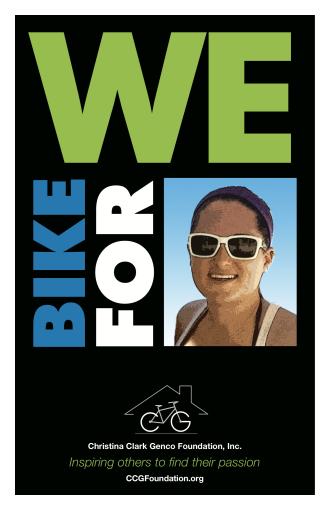 Every truncated life is tragic, no matter how quietly that life was lived. Even so, some lost lives stand out in our memories because those individuals stood for something larger than themselves. They wanted to make a difference in the world  —  and motivated everyone around them through contagious enthusiasm. Their irrefutable words and deeds haunt us, and drive us to engage in the actions we know they would have taken.
One such life, which spoke loudly to all who knew her, was that of Christina Genco. Christina was tragically killed on June 6, 2011, while leading a cross-country cycling trip through Alabama — with the non-profit group Bike & Build  —  to benefit affordable housing organizations such as Habitat for Humanity. She was only 22 years old at the time of her death.
While everyone who encountered Christina was enlivened by her infectious smile, and her determination to give hope and help to everyone around her, many people knew little about her life. Although born in Atlanta, Georgia, Christina moved to the Boston area when she was ten years old. She lived with her family in Newton, Massachusetts  —  just outside of Boston. After graduating from Beaver Country Day School, she attended Boston University, where she received degrees in Graphic Design and Hospitality Administration, in 2010. In her first post-college year Christina helped run Revolution Lacrosse  —  a developmental all-star lacrosse program for the serious female high school athlete looking to play collegiate lacrosse  —  working endless hours to ensure the quality of the program for young girls across Boston.
In her memory, and to carry on her legacy, The Christina Clarke Genco Foundation (CCFG) was established. The Foundation aims to inspire youth to find their passion and make a difference in their communities, and focuses on bicycling safety education, athletic scholarships and support for affordable housing.
On Sunday, May 13, 2012, The Christina Clarke Genco Foundation will hold its first annual Mother's Day Memorial Bike Ride. This family-friendly cycling event will focus on mothers, youth, and families, while raising funds for The Christina Clarke Genco Foundation.
The event will take place at Newton City Hall, as part of National Women's Health Week, to commemorate the life of Christina Genco, and to raise funds to support bike safety and affordable housing projects in partnership with Bike Newton, Bike and Build, and Habitat for Humanity.
The Foundation has established three funds that target the following: 1) Affordable Housing; 2) Safe Biking; and 3) Women's Lacrosse Scholarship. The majority of funds raised in the memorial ride will support affordable housing projects in partnership with Bike & Build and Habitat for Humanity.
"We are so excited to announce the Ride because it gives us all a chance to carry on Christina's legacy," explains Caroline Genco, President of the CCGF. "Rather than shy away from biking, we are confronting it head-on, promoting bike safety in partnership with Bike Newton, and raising money for affordable housing, the cause Christina lived and died working for."
The Ride kicks off at Newton City Hall and offers four routes: 3.4 miles, 17 miles, 34 miles and 68 miles long, to accommodate all ages and abilities. Start times are staggered at 1:00 P.M., 11:00 A.M., 9:00 A.M. and 8:00 A.M, respectively. The distances of the routes will reflect the number 34 in honor of Christina's lacrosse jersey number.
3.4 miles for families – $34 registration fee per family (children  under 16 ride free)
17 miles – $34 registration fee per person – $100 fundraising suggested, but not required
34 miles – $34 registration fee per person – $250 fundraising suggested, but not required
68 miles – $34 registration fee per person –  $500 fundraising suggested, but not required
A Safe Biking Clinic will be offered on-site in partnership with Bike Newton and Cycle Loft will provide overall logistical support. The Boston University Pep Band will perform in the morning, followed by reggae band Toussaint the Liberator in the afternoon.
For those interested in volunteering to assist with the ride, please check the volunteer listings on Volunteer Hub and contact CCGFoundation@gmail.com with any questions.
For riders coming from out of town, the Foundation has blocked off rooms  —  at a special rate   —  at the Hotel Indigo in Newton. Hotel Indigo is on the MBTA's Green Line and close to Newton City Hall. Reserve a room online with this special booking link, or reserve by telephone at 866-246-3446 by advising the agent that you are with the Christina Clarke Genco Foundation.
Bike rentals will be available for the event. Urban AdvenTours is offering a discounted rate for anyone wishing to rent a bicycle who has registered for the Memorial Ride:
Road Bike Rental*                  $67.50
Carbon Road Bike Rental*     $90
Hybrid Rentals*                      $31.50
*All rentals include a helmet and individual bike fitting.
To access this discounted rate, riders must call (617) 670-0637, and identify themselves as registered cyclists for the Christina Clarke Genco Mother's Day Memorial Ride. Bike rentals cover a 24 hour period and must be picked up in downtown Boston on Saturday, May 12 (between 9 am and 8 pm).
Registration is $34. Please register online by May 5.
The Foundation expects 300-400 riders to participate in the event, and collectively raise $25,000. If you haven't registered already, please do so as soon as possible, and spread the word to other cyclists who may be interested in commemorating the life of a special cyclist, raising awareness of the need for bicycling safety education, and raising money to build affordable housing for those in need.