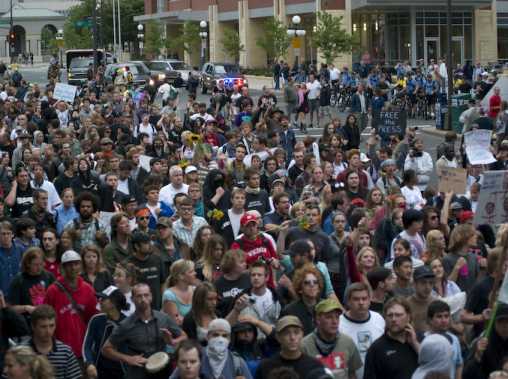 If it hadn't been for Twitter, I might never have known about the European cycling safety protests held last Saturday. A few tweets on the subject caught my eye, prompting me to investigate further.
What I discovered was a couple of articles (two to be exact) and a blog post discussing the subject. According to the articles, thousands of cyclists staged protests in London, Edinburgh, and Rome to draw attention to poor road safety and a lack of accommodations for bikes in major European cities. Approximately 10,000 cyclists participated in London and 3,000 in Edinburgh. Organizers said that these were England's and Scotland's largest pro-cycling demonstrations.
Protesters ran the gamut from Lycra-clad racing types to hobbyists in fancy dress. One blogger encouraged cyclists to attend the protest in street clothes to avoid creating the impression that cyclists were a separate breed of fanatics, different from the average citizen. He wanted people to see cyclists as ordinary people who wanted to include bicycle travel in their daily lives. Of course, the most important thing was for the cyclists to show up, mainly to show strength in numbers, so cyclists arrived in whatever attire they felt most comfortable in.
Pro-cycling groups organized the event under the Cities Fit for Cycling initiative, launched by the Times newspaper, in Britain. Part of their motivation for holding a protest was the death of 26 cyclists in Britain this year.
Global warming and congested cities were cited as reasons for wanting to make cities more friendly for bicyclists. Some cyclists believe that the public is more open to the idea of encouraging cycling due to these growing societal problems.
It was surmised that many would-be cyclists were put off by the large number of cycling injuries and deaths and were simply too afraid to ride in major European cities. A safety initiative seemed the best way to promote changes which would improve conditions and increase the number of cyclists on the roads.
In Rome, motivation for the protest came from what cyclists perceive as a "civil war on the roads." Italy's laws favor motorists, who, like motorists in the U.S., don't want to share the roads with the bikes. To demonstrate motorist attitudes, organizers in Rome mentioned recent cases where a 54-year old cyclist and 14-year-old boy were run down on roads in Naples and Parma respectively. They represented only two of the 2,500 cyclists who have been killed on Italy's roads over the past decade.
Protesting for change is a great idea, especially when it's done in a peaceful manner. Local citizens are made aware of the problem and see cyclists in large numbers standing up for their rights. In the area of the protest, the media is likely to cover the event as local news.
Given the extent of the protests, and the fact they they took place in several cities, one would expect a considerable amount of international coverage. If such coverage did exist, it didn't make its way into major search engines, where the general public could learn more about it.
In the U.S., the only searchable coverage of the protests came from a bicycling magazine. The mainstream media didn't think such protests were newsworthy.
Why is that?
The obvious answer is a global car-centric culture, which sees any challenge to this way of life as a threat, and something clearly inferior. A more subtle answer may lie in hidden bias against people who want to change the status quo.
Protesting cyclists challenge the basic assumption of cars as modern and superior. They also represent an investment of tax dollars in something many citizens perceive as benefiting only a few. It's always easier to allocate money to items supported by and enjoyed by the majority. Justifying expenditures on a minority is not only problematic, it engenders resistance.
Those who feel they will not benefit directly withhold support. The idea of paying for things which benefit others, and not oneself, is difficult for many people to swallow. It can be experienced as a loss of earnings since the fruit of one's labor is not going to oneself, but to others.
One would imagine this to be the view of the poor or working class who sometimes live hand to mouth, with little in the way of disposable income. Ironically, such views often come from the most affluent among us — in this case the conglomerates who own and control the mainstream media.
They are not unbiased, so their "news" must be taken with a grain of salt. In fact, all news must be taken with a grain of salt. However, news outside the mainstream media is often less reflective of a corporate agenda.
Could it be that this corporatization of the mainstream media is, at least in part, responsible for a pro-car bias in reporting? And, could it be a driving force behind the anti-bicycle sentiment so often seen in countries where cars represent luxury, ease, and corporate profits?
As I searced for information on this event, it dawned on me that in the modern age, something about the written word has changed. For many years, a common expression has been that "the pen is mightier than the sword." It's true: the pen is mightier than the sword.
Still, what's even more true is that silence, in a modern technological world, is mightier than the written word. What's left unsaid, undocumented, unsearchable, is the eradication of a truth which might alter the world we live in.
In the vacuum of what might have been a world-changing event  —  multi-city bicycle safety protests  —  I found hints and bits of a beginning for cycling as a viable form of transportation. As one might expect, the mainstream media remained mostly silent, leaving no trace of the cyclists' uprising. But, through peeps and tweets, whispers began of what I hope will be future full of cities designed to accommodate human powered transportation.