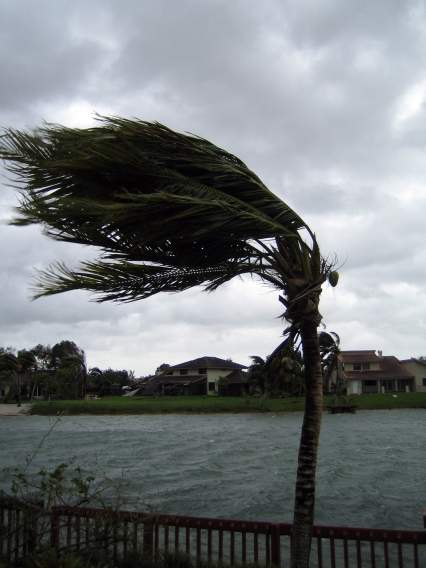 At first glance, cycling and hurricanes seem to have nothing in common. Well, actually, they don't have anything in common per se, but being a cyclist is an advantage when it comes to preparing for hurricanes.
Over the past few days, we in the Boston area have been inundated with warnings about the impending storm to end all storms, hurricane Sandy. While I don't want to minimize any hurricane, the predicted storm track appears to circumvent the Boston area. So, the packed stores and frantic battening down of the hatches that took place in Boston over the weekend may turn out to have been an exercise in futility.
Not to be outdone by the Joneses, I felt compelled to engage in some activity whose goal would be consistent with storm preparation. I do not own lawn furniture or other gale force wind movable outdoor objects, so I was safe on that score.
Food, however, was another story. I don't store huge amounts of food in my home. What I do store is usually found in the form of frozen microwaveable meals, which can be eaten without the hassle of cooking. Of course, should the power go out, both the microwave and the frozen meals will be useless. Therefore, I set out to locate foods which didn't require cooking.
After bringing home two grocery bags worth of food, I set out to make preparations for power outages. I charged all of my electronic devices, including my backup power source. Then I remembered that I hadn't recharged all of my rechargeable batteries and endeavored to recharge as many of them as possible (yes, I have a lot of rechargeable batteries, mostly AA and AAA).
One can never have too many rechargeable batteries, especially if he/she is addicted to consumer electronics. I have a plethora of possessions that would serve as overpriced paperweights without batteries. And the thought of repeatedly purchasing and disposing of alkaline batteries is enough to make me ill — both from an environmental and economic standpoint.
By now, you must be wondering what this has to do with bicycles. At first, I didn't think of bicycles either. But, then it dawned on me. I didn't have to go to extreme measures to prepare myself for this storm. I had plenty of accessories and cycling clothing with which to weather the storm.
I walked over to my utility bike, the one with the heavy duty accessories, and noted not one, but three lights capable of helping me through a power outage. The best of these was my indestructible DiNotte Light. It uses rechargeable AA batteries and usually runs for about 8 hours on the low setting. I rarely use the low setting outdoors, but it's surprisingly bright indoors, much brighter than most of the smaller flashlights I own.
Even with one set of batteries, I would have enough light to get by for an entire evening, just with the DiNotte light. As I began to think about it, I realized that my other bike lights would come in handy too.
My Flea 2.0 light, for instance, recharges from a USB port. If it ran low on power, this light could be recharged from my laptop or one of my portable USB charging sources. This diminutive light, I was certain, could be kept charged and operational for several days without draining the charging sources too much.
On my bike, I only use the Flea in the flashing mode, as a safety light. Yet, like my DiNotte headlight, it is very usable indoors as an emergency flashlight.
As I listened to Governor Patrick warning us about the state of emergency which had been declared, I considered what I might do if I had to endure a prolonged power outage. I rummaged through items on a shelf where I keep spare bike parts and accessories until I stumbled upon my trusty winter emergency light.
Shortly after I bought my Jamis Coda Sport, the review of which is one of the most popular posts on this blog, I bought a hand cranked dynamo headlight. I also reviewed this product in the early days of my blog, but most cyclists really don't think of purchasing such products, even though they're fantastic in a pinch.
This small light will run for a couple of hours after just two minutes of rotating its crank. Although it's not extremely bright, due to its large lens, it can light up most of my living room when just sitting on a table. I figured that I could use this light for an extended period of time if my other bike lights ran out of juice and I had no way to recharge them.
While I was going through my bike stuff in preparation for the storm, it dawned on me that I owned waterproof cycling gear. At one time, I did a lot of commuting in foul weather. To make myself more comfortable, I bought a bicycling specific rain suit comprised of a seam taped jacket and pants. Some of my readers don't believe in buying special clothes for cycling, nevertheless, cycling specific rain gear often does a better job of protecting one's rear end and has better articulating knees when saturated than do regular pants.
Thoughts of storm-proof rainwear may seem extreme. The governor and emergency officials did ask us to stay indoors, still, I have things to do and only intend to stay put at the height of the storm, and only if it's as fierce as they're predicting. My cycling rainwear will keep me dry whether I go out on foot or on my bike; it's perfectly designed for outdoor hurricane watching.
As an aside, for those who eschew all cycling specific clothing, keep in mind that such clothing can often be used for other things besides cycling. Mine will be used as storm gear.
I always knew that there were advantages to being a cyclist, but until today, I never realized how convenient it would be when facing the inconveniences of a hurricane. Cycling has many advantages over driving. Some are obvious and others less so. People rarely think about the ways in which cycling better prepares us for the unexpected things life throws at us — even catastrophic events like hurricanes.