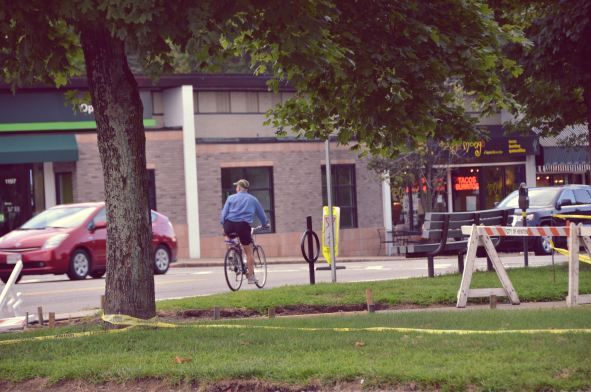 I wonder how many of my readers did a double take when they saw the title of this post. Avid cyclists are familiar with the "Tour de" name and naturally think of the Tour de France.
The Tour de France, of course, is a multi-stage bicycle race held in France. Cycling's fastest and fittest riders congregate there to test their mettle.
With 21 day-long stages over a 23-day period, the Tour de France covers about 2,000 miles. That's a lot of riding under any circumstances, but especially so when riders are competing to attain the lowest aggregate time. For this feat, the rider would be awarded the coveted yellow Jersey.
Most cyclists are familiar with what the Tour de France entails. But, what about the Tour of Newton? Is it another mult-stage race? It sure sounds like one.
When I first heard about it, I wasn't quite sure what it was. It didn't take me long to figure out, though, that the "Tour de" part was just a play on words. It was more like a real tour, such as a tourist might take.
But why were they doing this? As it turns out, they wanted to do something to celebrate Newton's walk-bike week. So, they planned a family friendly recreational ride which goes through all 13 of Newton's villages. At each village people will be stationed to greet the riders and present them with a unique village badge.
The whole thing is a home-grown event, including the design of the badges. Volunteers from each of the 13 villages are going to design the badges.
Anyone from Newton can participate, provided that they are willing to sign a release form and assume responsibility for their own participation. The organizers proudly proclaim that no rider will be left behind, even if they're not sure they can ride the 20+ miles this trip will take.
What's really good about this idea, aside from the fact that it promotes the use of bicycles, is that it is inclusive. Everyone is welcome, and everyone is considered suitable to ride a bike, even if he or she only rides 5 miles per hour — which may be the case for some of the kids and older riders.
Cycling for transportation is not a race. It's about making it from one place to another. How fast someone rides is irrelevant, as long as they reach their destination.
The pace aspect of cycling, and the fact that many group rides have a minimum speed, leaves many would-be cyclists out in the cold. They're not fast enough or strong enough to keep up with other riders, so they don't participate. Making a leisurely pace acceptable also makes cycling more palatable for people who don't want to race or to ride exclusively for fitness. Such a problem makes a tour a good idea.
It's a shame that there isn't more widespread publicity for similar bicycling events. Planning and running an event like this shows community interest in cycling and a willingness to makes bikes part of the transportation landscape.
As far as I know, Newton is the only city outside of Boston comprised of multiple villages. While each of these villages has a distinct character, only some of them reflect the reputation Newton has outside the city.
Newton, like many smaller cities located just outside of a major city such as Boston, has more diversity than suburban stereotypes would lead one to conclude. If a cross-section of these diverse groups participate in a ride like the Tour de Newton, it will show that cycling is becoming more commonplace.
More cities and towns throughout Massachusetts and the U.S. should plan events like the Tour de Newton. Riding bikes through towns in groups makes cyclists and cycling more visible. With any luck, the Tour de Newton will be a success and will motivate other towns to follow suit, which will move cycling an inch closer to the mainstream.