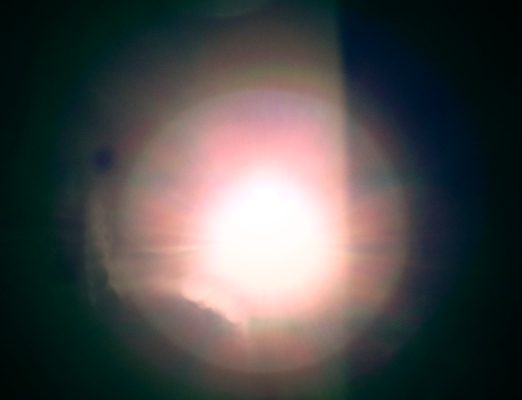 Granted, the photo at the top of this post isn't the finest representation of those blindingly blinking headlights which have become so common on bicycles today. But without hauling out semi-professional photographic gear, this was as close to capturing the pulsing light as I could come.
With each passing day, it seems, these lights become brighter. New technologies allow greater output in increasingly smaller casings. And, the flash patterns vary. Some lights offer more than one pattern. Others offer only a single pattern, but it's an off-beat sort of pattern, that is not only attention-getting, but highly annoying.
But, perhaps that's the point. An annoying light is difficult to miss. And, if the light isn't missed, neither is the bicycle. Or so the theory goes.
There are pros and cons to such lights. Under certain conditions, where a bicycle might be difficult to see, they draw a driver's attention to the spot where the cyclist is riding. Examples of times where this might be beneficial are in heavy traffic, when a driver's attention is divided in multiple directions and on dark roads where a driver might not expect to see a bicycle.
At times like these, flashing white lights might mean the difference between a car noticing a bicycle and avoiding it and a car not noticing anything in its path and striking a bicycle. So, there is a definite safety advantage in situations where a bicycle might not be otherwise seen.
But, what about cases when people ride on moderately trafficked suburban roads with decent lighting, less congestion and greater opportunity for drivers to notice their surroundings? Are flashing lights necessary in such settings?
This is debatable. Under these conditions, wearing brightly colored clothing might be enough to get a cyclist noticed. Even in the dark, light clothing stands out in a car's headlights. And, reflective accents or vests can catch a driver's eye.
In essence, multiple methods exist for making a bicycle visible. Yet, the flashing white lights have continued to grow in popularity, more than any other visibility creating method.
Despite the success of these lights in gaining the attention of everyone facing the bicycle where they are mounted, a downside exists. Strobe lights can cause some people to have seizures.
Contrary to popular belief, not everyone who suffers from seizures is sensitive to flashing lights. And some individuals who are not prone to having seizures can become dizzy or possibly have a seizure, if they are unusually sensitive to bright, flashing lights.
This concern has been cited as a reason for reducing the use of flashing bicycle lights. While these concerns are well-intentioned, the fears of their proponents may be overblown.
There is a big difference between seeing a small flashing light at a distance and having a large flashing light or several flashing lights directly in front of one's eyes. Individuals with seizure disorders know what triggers their seizures. And, they try to avoid those things.
It really isn't very difficult to look away from a small flashing light on the front of a bicycle. And, the percentage of people with seizure disorders who are sensitive to flashing lights isn't extremely high. Therefore, the odds of a person with this disorder coming into contact with a bicycle using a flashing light is fairly small. And, yet, these lights are frequently referred to as "seizure-inducing."
What it boils down to is that these lights have been colloquially connected with a medical condition because some people are irritated by them. Rather than referring to the lights as annoying, when they would prefer that no one used them, they imply that these lights are doing a disservice to those with a particular medical problem.
It's a way of making something they dislike look unacceptable without coming right out and saying so. Nonetheless, cyclists should try to regard the use of these lights as a positive thing, even if, on an individual level, they don't like them.
As irritating as these lights may be, they make the cyclists using them feel safer. Feeling safer means that they are more likely to ride their bikes on the roads. This increases the total number of bicycles on the roads, which benefits everyone — even though some drivers refuse to admit that this benefits them too.
With so many would-be cyclists citing fear of riding in traffic as a primary reason for not using a bike for transportation, we should be more forgiving of safety promoting behaviors which make cycling seem less dangerous. After all, how many times have we heard a driver use as an excuse for hitting a bicycle: "I never saw the bicycle."
How likely is it that this excuse will be believed when the bicycle in question was sporting a blinding, "seizure-inducing" light? Not likely. More likely than not, the driver wasn't paying attention or was driving recklessly.
On more than one level, flashing lights provide safety — by giving a cyclist a psychological edge and by creating a situation where a driver can't claim to not have seen the bicycle he hit. Momentary irritation on the part of oncoming traffic is a small price to pay for a cyclist's peace of mind and for potentially saving her life.