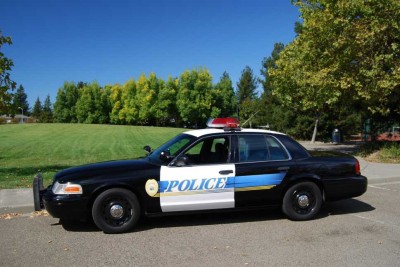 A few days ago, I was returning home from a recreational ride when I came upon an accident scene. I was about to turn off onto a side street, thinking it was none of my business, when I noticed a bicycle lying under the left front wheel of a car.
After making the turn onto the side street, I stopped to see what was going on. The first thing I noticed was a man standing near the driver's side of the car, wildly gesticulating while talking with three police officers. There was no ambulance in sight. And, I couldn't locate the cyclist.
A woman's bike was lying on the ground. But all I saw was a man standing away from the car on the corner where the collision had occurred. Another bike was lying next to him, so I decided to ride over to find out whether he knew anything about the accident.
Pulling up next to him, I asked about the cyclist who had been riding the bike under the car. He said that the cyclist was his girlfriend.
She had gotten up after crashing and tried to walk it off. But, she was pretty banged up, so he told her to go to the hospital. The driver's insurance would pay her medical bills, he had advised her, to get her to agree.
I asked him what had happened. He explained the incident clearly and without hesitation.
He was riding in front and his girlfriend was following right behind him when they entered the intersection. The light was green. As he reached the other side of the intersection, he could see that the light had just turned yellow, which gave his girlfriend enough time to cross the intersection before the light turned red.
Immediately, I asked him whether he had told this to the police. He hadn't told them anything because as soon as the police arrived at the scene, they began yelling at the man and his girlfriend for having no reflective gear. The couple, I was told, didn't own reflective gear because they only rode occasionally. They needed to go somewhere that evening and they didn't have a car – so they decided to ride their bikes.
The police, who were engrossed in conversation with the driver, showed no interest in hearing the cyclists' side of the story. As far as they were concerned, if the cyclists did not have reflective gear, it didn't matter whether they had the green light – or more importantly, whether the driver had a red light.
The man had been relegated to the corner – instead of standing with the driver – because he "went off" on the driver for crashing into his girlfriend. And, who could blame him?
As I stood with the man, waiting to see what would happen, I advised him to give a statement to the police. I was familiar with the process of filing a police report and dealing with a driver's insurance company and he didn't seem to know much about it. Even though her medical bills would be paid under Massachusetts' no fault laws, the matter of getting the bill for her bicycle repair paid would depend on both sides of the story appearing on the police report.
Auto insurance companies will do anything to get out of paying a claim; it's best not to give them any excuses.
One of the officers came over to the man to ask whether he was going to take possession of his girlfriend's bike. At my urging, he told her that he wanted to make a statement. She reminded him that he had previously told them he hadn't seen the accident. And he hadn't. But, he had pertinent information about the traffic light to add to the police report.
The officer wasn't going to let him say anything. However, I stood right next to the man, dressed in the most blinding hi-vis clothing and reflective gear anyone could possibly imagine, giving her a death stare that could bore a hole through a steel door.
The officer kept glancing over at me out of the corner of her eye, and due to my intensity, finally broke down and let him tell her about the light. The driver, she informed him, said he had a green light. And, of course, she had no way of knowing who was right. Still, the man's observation about the light belonged in the report alongside the driver's long-winded explanation of why the cyclist was to blame.
The driver claimed to be watching the man and didn't notice the other bicycle because he was driving a taxi and the second bicycle was in his blind spot. In the officer's opinion, hitting a moving target in his blind spot (which he should have seen before it entered his blind spot) was OK because that's how it is when you drive a taxi. It was an "accident," she said with a nonchalant shrug.
Now, as luck would have it, the man had once driven a taxi – which he had the courage to tell her – and, to his credit, he didn't back down on his assertion that it was no excuse for hitting a cyclist.
After jotting down a few notes on one of those flip open police note pads, the officer shook her head and walked back to her patrol car. The nerve of these cyclists, she seemed to say, as she huffed off.
I had something to say, but clearly she was not the one to say it to since she had been pressured into allowing the cyclists' side of the story into the police report.
Two officers stood a short distance away. I decided not to miss an opportunity to enlighten them.
I walked my bike right up to them. Then, I started my dissertation on driver inattentiveness by saying "excuse me." This phrase, I've learned from experience, always throws police temporarily off their guard.
Once I had their attention I told them that the stretch where this woman had been hit – which I rode along daily – was one of the most dangerous places a cyclist could ride. Despite my screaming hi-vis attire, reflective vest, and front and rear lights, a car had once blown through a stop sign, onto the same stretch of road, and had slammed into my bike.
The presence or absence of reflective gear, I informed them, was not the sole determining factor in all car versus bicycle accidents. I was hit at dusk. It was not even dark, but I had my lights on anyway.
High visibility didn't matter because every day I saw many cars run the stop sign (where I was hit) and the red light at the intersection where we stood. The taller of the two officers kept harping on the reflective gear. He couldn't get it out of his mind as the source of the problem and why cyclists were to blame for collisions with cars. His response to my report of a serious traffic law violation problem in his jurisdiction was "we can't make drivers less stupid."
What struck me was how closed-minded these officers were. They were not interested in the traffic laws, or how many drivers violated them, only whether a cyclist was adequately visible. The nearly daylight quality brightness at the intersection in question did not deter them from their beliefs about cyclist behavior as the cause of accidents.
While I had their attention, I mentioned the number of drivers who don't know how to share the road with bikes. I talked about how they drove directly at bicycles when at a stop sign or when making a left-hand turn, instead of coming to a complete stop to let the bicycle pass. A lot of accidents, I pointed out, could be avoided if drivers would stop this dangerous practice.
One of the officers seemed surprised to hear me say this. Although he didn't say anything, he appeared to be thinking about my words. With that, I politely extracted myself from the situation, leaving them to ponder over whether cyclists are always to blame for accidents.
On the police report, the cyclist will, undoubtedly, be blamed for causing this accident. Police bias against cyclists makes it nearly impossible for cyclists to get a fair hearing when involved in an accident with a car.
Police have already made up their minds about who is at fault before arriving at a car versus bicycle accident scene. And, they will look for any excuse to forgive the driver, who has their sympathy as soon as the accident call comes over the radio.
With so much progress being made, with respect to building cycling infrastructure in cities and towns across America, it's sad to see how little police opinions about cyclists have changed. At some point, they will have to come to grips with the reality of cars sharing the road with bicycles. And when they do, they will be obligated to include both sides of the story on all police reports, including all pertinent details regarding traffic laws and who had the right of way.
If drivers believed that police wouldn't always side with them, regardless of how badly they injured a cyclist, then maybe they would start driving as if their own lives depended on it – not just the cyclists' lives.