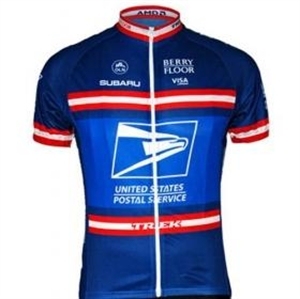 Not long ago, the United States Postal Service (USPS) chose to  sponsor a cycling team. This may have been a relatively inexpensive way to advertise, but it created the impression that the U.S. government had given its stamp of approval to a cycling team which has come under intense scrutiny. Foreign citizens (and some Americans) might see the Postal Service as an agency supported by taxpayer dollars even though it has been self-supporting for the last thirty years. Unfortunately, this assumption lent credibility to the team.
The excuse of being self-reliant – and therefore entitled to sponsor cycling teams – is about to eliminated. The USPS has been losing both money and customers due to the use of e-mail. Most of what they deliver these days is bills or junk mail. Consequently, they lost 8.2 billion dollars this year. To help the floundering USPS generate revenue, President Obama's 2012 budget provides them with $4 billion dollars, deceptively named "temporary financial relief."
The Office of Personnel Management has also determined that the USPS has overpaid its Federal Employee Retirement System by $6.9 billion. Obama's budget will pay that back to the USPS over a 30 year period. $550 million of it will be paid out in 2011.
In addition, a 2006 law requires the USPS to pre-fund retiree health benefits for all employees. This amounts to several billion dollars per year, which they can't afford to pay. The budget allows them to pay it out over forty years beginning in 2017.
Many people have referred to these budget provisions as a bailout.
Keep in mind that the USPS has a monopoly on Standard and First Class mail. If any other company wants to deliver a letter to a U.S. address they have to charge twice as much as the Postal Service.
You have to ask yourself why an independent agency of the U.S. Government, which has been consistently losing money in recent years, would choose to spend money supporting a cycling team. The plan was to give the USPS more exposure in Europe where cycling is more popular than in the U.S. This inexpensive form of advertising, along with revenue from the sale of jerseys and merchandise, was supposed to bolster business. Still, with their track record of losing money, it's hard to believe that they could compete with other shipping companies just by gaining more exposure.
Now, in addition to wasting money that could have been used to run the Postal Service, they have gotten caught in a controversy regarding systematic doping on the former USPS Cycling Team. As if losing customers to technology wasn't enough, they now have to contend with their name being associated with a scandal involving illegal activity.
This raises the question of the propriety of allowing a government agency to sponsor sports teams. The potential damage to the reputation of the U.S. Government far outweighs any profit a government agency might receive. And, on some level, there could be political ramifications as well.
Is it any wonder that the USPS kept the amount they spent sponsoring the cycling team a secret? Despite ending the team sponsorship in 2004, it wasn't until ESPN's Shaun Assael pursued the issue that the amount came to light.
The USPS spent $31.9 million on sponsorship between 2001-2004. This comes out to $8 million per year or roughly 60-65 percent of the team's overall budget. For an agency losing $8 billion dollars per year, this hardly seems to be a prudent use of limited funds.
Meanwhile, former USPS team member Floyd Landis, who was stripped of the 2006 Tour de France title for doping, has filed a federal whistle-blower lawsuit against his former team on the basis that the team defrauded the government. Doping, apparently, was a breach of the team's contract with the Postal Service.
The government can join the whistle-blower lawsuit, but doing so would benefit Landis who would receive a percentage of any money recovered. It's hard to understand why the government would spend taxpayer dollars pursuing a whistle-blower lawsuit. Landis stands to gain more than the government – who should never have been involved in this in the first place. Should we reward Landis (who  lost his Tour de France title for doping) for filing a lawsuit against someone for doing exactly what he did himself?
To add insult to injury, Lance Armstrong and the former USPS team are under federal criminal investigation for charges including fraud, tax evasion, money laundering, and drug distribution. Is this the sort of team a government wants to endorse? Maybe, if the government can't control the behavior of the athletes on the team, they should leave sports sponsorships to corporations whose reputations don't carry political ramifications (or involve taxpayer dollars). Further, if the USPS actually cared about cycling, they could have done something more beneficial to U.S. citizens (instead of to themselves) such as investing in cycling infrastructure.
The disastrous outcome of the Postal Service's sponsorship of a cycling team is a good lesson in why government should stay out of arenas where controversy is the norm. The risks are far greater than the rewards. Taxpayer dollars can be lost. Reputations can be lost. And in the end, the profits of the Postal Service will not increase because, after all, their business is to deliver letters not champions.