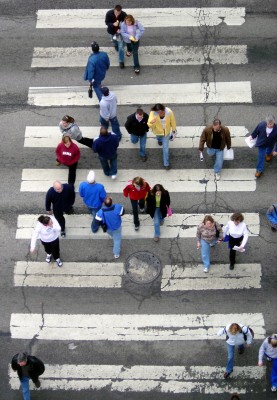 A combination of the words "cycling" and "manslaughter" is hard to fathom. So rare is it for a bicycle to do any real damage to anything but its rider and itself, that it's hard to imagine how it could act as a weapon to end a life. Still, as they say, truth is stranger than fiction, and from time to time a bicycle is involved in a death.
Last summer, I wrote about a cyclist in San Francisco, Randolph Ang, who allegedly ran a red light and struck a pedestrian, Dionette Cherney, who was crossing the street. The pedestrian fell to the ground, hit her head, and later died of "blunt force injuries to head," according the coroner. At the time, the police didn't charge the cyclist, opting instead to conduct an investigation of the accident.
The investigation was delayed by the coroner's office because they didn't complete the pedestrian's autopsy report until October 31st. On November 10th, one day after the police gave the investigation report to the D.A.'s office,  the D.A decided to file charges against the cyclist. He was charged with misdemeanor vehicular manslaughter, for which he could serve up to a year in jail, if convicted. According to the D.A.'s office, the cyclist was only charged with a misdemeanor because investigators determined that he had not acted with criminal intent or gross negligence.
A few things come to mind when considering this situation. It's very rare for a cyclist to kill a pedestrian. Many more drivers kill pedestrians, and very few face charges. The same holds true when drivers kill cyclists. Drivers who do face charges only do so because they were driving without a license, intoxicated, or left the scene of the accident. According to the San Francisco police department, 811 pedestrians were hit by cars in 2010, while 18 were hit by bikes. Percentage-wise, cyclists are charged more often than drivers, even though both groups should be treated equally.
While I'm in favor of cyclists being held accountable for causing someone's death, I would like to see Ang's case set a precedent, not only for cyclists, but for drivers, as well. One should be held accountable for serious harm inflicted upon another while operating a vehicle, motorized or not.
Another strange thing about this case is that days after Ang was charged, detailed stories about the incident, including information about Ang's life and facts from the investigation, were made public. Accident report details about drivers who kills cyclists or pedestrians are almost never released — or more specifically, the media never bothers to report on them.
One news site, in addition to writing about the accident, provided a lot of information about the current status of Ang's case:
"He [Ang] returned to court Wednesday to be arraigned on the manslaughter charge and pleaded not guilty.

Prosecutor Sarah Hawkins had asked for Ang to be held on $15,000 bail, but the judge declined to take him into custody, saying he was not a flight risk or a danger to the community.

Ang's attorney, Tony Brass, said outside of court that "there's no question this is a tragic accident, and no one feels that more than my client."

Brass said Ang had recently graduated from Bucknell University in Pennsylvania and had gotten his first job as an assistant media planner at a marketing company along The Embarcadero, and was just trying to get to work on time.

"He feels terrible about what happened to this woman," Brass said.

Brass also acknowledged that the case highlights a hot-button issue in San Francisco because 'most people are annoyed at how bicyclists ride around the city.'"
In other cases  —  such as when a driver is prominent or has connections — a cover-up is clearly the reason investigation reports are kept under lock and key. Last June, I wrote about a local cyclist, Christina Genco, who was killed by a driver in Alabama while participating in a charity ride. I have tried in vain to obtain information about the accident investigation. Even one of the commenters on my post, who lives in Alabama near the accident scene, provided the following information about what he believes was a cover-up:
"I live within 15 miles of where this accident in Rainsville, Al. happened, less miles if I use the back roads, and I can tell you for a certainty that there was no such thing as Craig Chandler ( I will not call him Mister ) turning onto the highway. There is no place to turn onto the highway near there and he also could not be making a U-turn there unless he was already going the wrong way on that side of the highway. It is a 4 lane highway there divided by cement, sort of like many highways are when there is construction work along one lane. In this case it is just a divided highway. It is a long stretch of road and one can see a goodways ahead. The only way he could of been entering the highway would of been if he had of been on the side of the highway and decided to return to the driving lane. According to the one witness I read about, and I would say there was probably more that saw it and was afraid to get involve or something, Craig Chandler was not paying attention to what he was doing. I was totally shocked that the Rainsville Police Chief decided to "basically" try to help with what I am sure was and is a cover-up for Craig Chandler. I once had much respect and confidence in this Chief, especially as a man and a man of God. I do not have that respect and confidence in him any longer.

In this case, Craig Chandler was attached to the Dekalb County Sheriff Department at one time and his Father still was. Just thought you might like to know what I do know of the facts this far. Our news media here, especially the Fort Payne "Times Journal" and the local radio stations has not said much about this and dropped it almost right away."
With respect to the case of the negligent cyclist, news outlets reported on the accident in July, reported about it again in August when the pedestrian died in the hospital, mentioned it again in September when the cyclist hadn't been arrested, and then reported on it a fourth time in November when the cyclist was charged.
Yet, as concerns the cyclist who was killed by a negligent driver, the media wrote very little about the specifics of the accident when it occurred, and dropped the story right after the investigation report was turned over to the D.A.'s office. In contrast, when a pedestrian was killed by a negligent cyclist, the media obtained all pertinent information and published it right away.
Apparently, a cyclist killing a pedestrian is "newsworthy"; a driver killing a cyclist is not. What's needed is a standard to apply to all vehicle operators. This should include degrees of intent, which is the criterion used to determine whether someone has injured another party deliberately or simply by not acting in the same manner as any reasonable person would under the same circumstances.
Another issue, which I have written about before, is how the relative value of the individuals involved factors in to whether they are held accountable or whether justice is served. Both Ang and Genco  —  one cyclist who killed and another who was killed  —  were approximately the same age. Ang was 23, Genco was 22. One killed a 68-year-old women who had accomplishments to her credit; the other was killed by a man with connections to the local police department. Neither had any standing in society.
For now, there is no justice. What exists is random charges filed against random vehicle operators, based on the relative value of the parties involved. Perhaps when our cities and towns have been redesigned with adequate bicycle and pedestrian accommodations, the matter of accountability, along with ethical considerations of how road users interact on the roads, will lead us to a place of unparalleled parity.