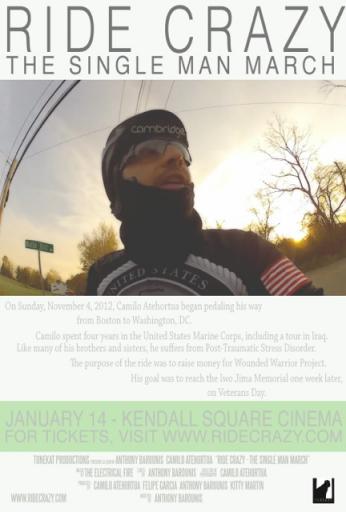 One of the perks of being a cycling blogger is that people contact you with all sorts of interesting things related to cycling. Not long ago, I was contacted by a director/producer regarding the upcoming premiere of his new film, "Ride Crazy: The Single Man March."
He invited me to check out the movie trailer to see what I thought of it. I ended up watching both of the trailers, along with one of the other videos on the film's site. This video, while not exactly a formal trailer, was shot in Boston and features a lot of riding on roads that will be familiar to all of my local readers.
The film, which premieres on January 14, 2013 at the Kendall Square Cinema in Cambridge, Massachusetts, tells the story of United States Marine Corps veteran Camilo Atehortua's 520-mile bike ride from Boston to Washington, DC. The purpose of the ride was to raise money and awareness for the Wounded Warrior Project. Even though Camilo's goal was to reach the Iwo Jima Memorial in one week, on Veterans Day, he encountered a nor'easter and the aftermath of Hurricane Sandy, which must have made this trip quite a challenge.
By way of background, Camilo, who lives in Boston, grew up in Colombia and emigrated to the U.S., at the age of 17. His four years of service in the USMC included a tour of Iraq where he witnessed the horrors of war. As a result of this harrowing experience, he, like many other veterans, suffers from Post Traumatic Stress Disorder. And, like many other cyclists, he has found peace on his bike.
The film was shot first-hand by Camilo, who managed to take 60 gigabytes worth of footage during his journey. When he set out on this journey, he only intended to raise money for the Wounded Warrior Project, but the trip turned into "an eye-opening journey of self discovery as he sees the impacts, both positive and negative, that humans can have on one another." According to Anthony Barounis, director/editor/producer of Ride Crazy: The Single Man March, "The film is inspiring and entertaining and has a very positive message."
A movie of this sort, which includes a journey of self-discovery and the noble goal of raising money and awareness for an important cause, would appeal to anyone, but especially to veterans and cyclists; both groups would enjoy the action and could relate to the film's main character.
In addition to the obvious themes of this film, there are more subtle undertones, which might only be apparent to cyclists. Camilo, like many other veterans, has benefited from using cycling as a way to recover both physically and mentally from the negative impacts of war.
As cyclists, we often talk about the role cycling plays in attaining and maintaining good health. But one point that is often overlooked is the role cycling can play in healing. The motion, the soothing rhythm of pedaling, the independence of traveling under one's own power, and the acquisition of physical strength all play a role in healing the body and mind.
I can't even count the number of times I've gone out for a bike ride to clear my mind or to lift my spirits after a bad experience. And, inevitably, after my ride, I feel calmer and happier. So, it's no surprise to hear about other people who have experienced healing through the activity of cycling.
For anyone interested in attending the premiere on Monday, January 14, 2013 at the Kendall Square Cinema at 7:00pm, tickets are $30, including a $10 donation to the Wounded Warrior Project. Tickets can be purchased at the Tonekat Productions shop. Seating is limited, so plan accordingly.
If you can't attend the premiere, but would like to donate something towards Camilo's Wounded Warriors fundraising, you can contribute here. In any event, it's great to see cycling making such an impact on people's lives and becoming such an important instrument for raising funds and awareness.