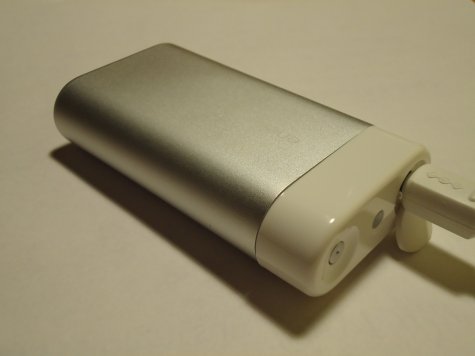 Technically, a hand warmer isn't a bicycling accessory. But the innovative cyclist, to whom weather is no foe, will appreciate its usefulness as part of a well-stocked armory of cold weather accoutrements.
Hand warmers come in several varieties – disposable, flammable fuel, and electric. The first is expensive and not environmentally friendly (although it's portable, unbreakable and a good choice for emergency use). The second heats well, but is a bit on the dangerous and toxic side. And, the third, an electric hand warmer, is the best of both worlds. It's reliable in an emergency. It uses a clean fuel source, rechargeable batteries. No fumes, no mess.  A spare set of batteries can be carried along for extra run time. And, as if that weren't enough, it's sturdy, with nothing to break.
The model I use is the Sanyo KIR-SL2SS Kairo Hand Warmer. It comes with two Eneloop batteries and a built-in charger. Eneloop batteries can easily be charged in any battery charger.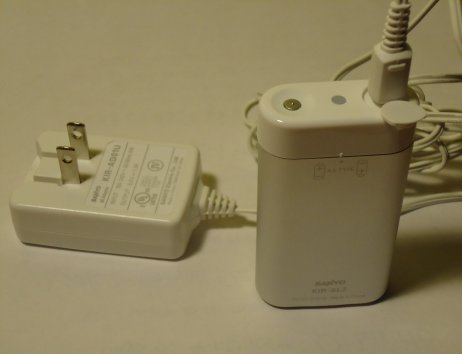 Eneloop is my favorite battery. Unlike most NiMH batteries, these batteries come pre-charged and hold their charge for prolonged periods of time. This feature is particularly well-suited for use in a health/emergency device such as a hand warmer. The batteries won't lose their power when the device is turned off (provided that you regularly charge them with use). And, keeping a spare set of Eneloop batteries with you is no problem since they don't have to be charged immediately before use.
Despite some negative reviews on Amazon, the Sanyo Kairo hand warmer is worth a try, especially if you know what to expect and have a plan for how to use it. The hand warmer is made of aluminum, measures 1.75 inches by 3.25 inches, and heats up on both sides. It has a white plastic top, which houses the charging plug and power button. The heat setting determines the length of operation, anywhere from 1 to 3 hours of continuous use. The charger has folding prongs, which makes it ideal for travel. Pressing one button cycles through its temperature settings – low, high and turbo.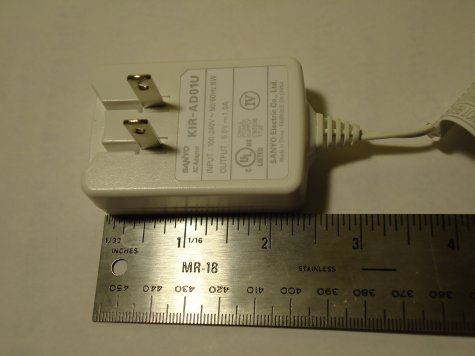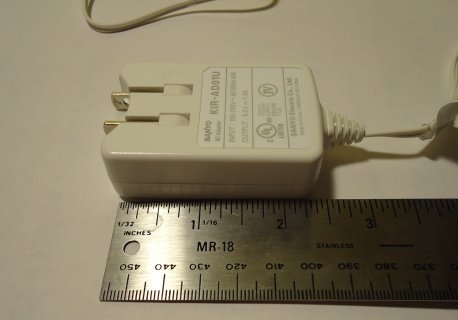 According to the manufacturer, the average temperature for the settings is 102/106/115 degrees respectively. My own tests, taken with a non-contact infrared thermometer, show lower temperatures. On low, mine averages around 100 degrees, on high 104 degrees, and on turbo 110 degrees. However, if you hold the warmer in your hand – to retain the warmer's heat and complement it with your own body heat – the effective temperature is probably higher (or so it feels). To conserve battery life, I run mine on low most of the time. I use high or turbo to warm up my hands before switching to low.
Some people see the lower-than-advertised temperatures as a drawback; but from a health standpoint, it's a better option. I use this device to extend my ride time during bitter cold temperatures. I've had frostbite on my hands. Consequently, my fingers are more sensitive to cold than they once were. When hands are frostbitten, it's not good to use "heat sources" to thaw them. Excessive heat can damage frostbitten skin.
Generally, I avoid anything other than body heat (armpits are ideal) or warm water for frostbitten hands. But, the beauty of this type of hand warmer is that it doesn't get extremely hot. It's just hot enough to revive your fingers from the verge of frostbite, without the risk of skin damage. I can't imagine why anyone would need a temperature significantly over 100 degrees to warm their hands.
I carry this electric hand warmer with me all winter. In addition to using it for bicycling, I use it for gloveless electronics operation and other winter tasks requiring fine motor control. To preserve the heat, I encase the hand warmer in a small cotton, cinch top bag (a spice bag to be precise) and close it with a cord lock to keep it from falling out. I position the control side near the opening in order to turn it on and off without removing it from the bag. I've found the covered method particularly useful when warming my hands out in the open since the covering keeps the heat from escaping into the atmosphere. For use inside a pocket, the metal surface alone is adequate.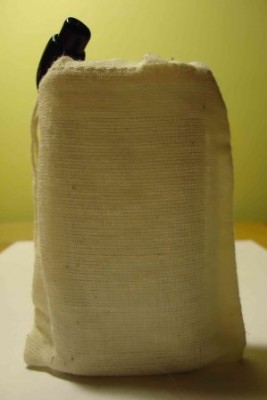 When the outdoor temperature is in the low 20s, my hands start to get cold forty-five minutes into a ride. As soon as the cold sensation turns into numbness, I stop riding and pull out the hand warmer. Removing a glove is necessary to turn on the hand warmer. For quick warmth, I set it on turbo and place the fingers of both hands on either side of it so that all of my fingers touch the metal surface. I wrap my thumbs around the top of the unit (the metal part). Then, I switch to one hand at a time, keeping the hand inside a jacket  pocket wrapped around the warmer.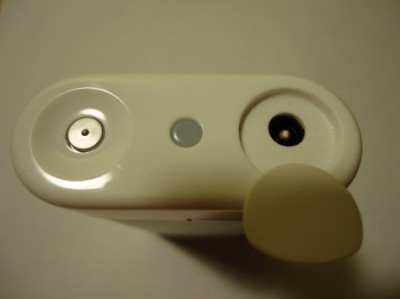 Once the numbness has stopped, I wrap one hand all the way around the hand warmer and cup it with the other hand. Then I reverse hands. The warmth on the palm of the recently heated hand warms the back of the cold hand. Using these methods, I can easily return my hands to normal temperature. Depending on the windchill, it takes more or less time to "defrost" my fingers. I put my hands back into my gloves while they're toasty warm and ride for another half an hour.
Whatever method you choose to keep your hands from freezing, you'll find this device an invaluable tool for emergency use. Overall, an electric hand warmer is a handy item to have.