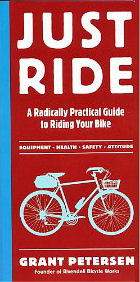 Contrary to my usual habit, I recently decided to peruse The New York Times' Sunday Book Review section. I generally don't read their reviews due to a lack of interest in the type of books they review. However, as luck would have it, on this particular day they had a review on a book about bicycling. I couldn't resist taking a peek at it.
The book was entitled 'Just Ride: A Radically Practical Guide to Riding Your Bike' by Grant Petersen. The reviewer started out by bashing a cyclist for showing up for a casual ride dressed like he was going to ride in a time trial. This, apparently, represented the theme of the book, which purported to be a "radically practical guide to riding your bike."
Lance wanabee bashing is nothing new, let alone radical. But as I read on, I encountered some mind-blowing quotes from the book, which might be considered either radical or offensive.
"Petersen opens with this salvo: 'My main goal with this book is to point out what I see as bike racing's bad influence on bicycles, equipment and attitudes, and then undo it." And he goes on to prove, conclusively, that most of what ails the world of cycling comes from nonprofessional riders pretending, or being bullied into pretending, that they're professionals. The solution, he says, is to emulate kids and other "Unracers" — people who bike for fun and not profit.'"
Even though the reviewer believes that Petersen "proves his claims conclusively," the quotes are merely based on blind assertions. Petersen offers no statistics or anything objective to support his conclusions.
Another quote which left me shaking my head was: "No matter how much your bike costs, unless you use it to make a living, it is a toy, and it should be fun." Yes, it should be fun to ride a bicycle. But it is not a toy; it is a legitimate form of transportation with road rights equal to those of a car.
Now, for full disclosure, I must admit that I did not read the book. After reading the review, I'm not sure I want to read it. Still, mention of this book piqued my curiosity about the author and his philosophy about cycling.
To learn more about the book, I headed over to Amazon.com to see if there were any reader reviews available. As I expected with a non-best selling book written by a successful businessperson, most of the reviews were glowing. These reviews were probably penned by supporters of the brand. Predictably, the 5-star reviews had no comments, while the bad reviews had multiple comments, generally attacking the reviewer.
A few comments written by negative reviewers led me to verify the information on the author's website. Grant Petersen is the owner of Rivendell Bicycle Works.
Rivendell bikes are aesthetically pleasing; owners of these bikes characterize them as having a nice ride. The high-end bikes are Made In the USA, while the lower-end bikes are not. This fact is not represented on the Rivendell site (the manufacturing location is omitted on the lower-end bike product pages). I learned about this from bike forums and book reviews.
Such an omission is probably nothing to worry about. The bikes appear to be good quality and will serve their owners well. However, I was less certain about the company itself.
Avid reader that I am, I decided to read through the company's warranty information and sales policies. There I found an attitude which is generally frowned upon both in consumer circles and the retail world.
In a nutshell, there is no warranty on Rivendell frames. They refer to this as "Our No Warranty Frame Warranty." Reading through this densely worded non-warranty yields a few striking facts. The manufacturer believes that they are: "skilled, experienced non-defective designers." In other words, nothing they build could possibly have a defect — according to them.
If the customer claims to have received a defective bike, Rivendell's position is that "broken frames are rare. Crash damage, and running into garages with bikes on the roof rack are way, way more common. Tell us your frame's story. We may fix it for nothing, but you pay the freight. Or we may charge a fee for the fix. It is at our discretion, but we're not your enemy, and you are our friend."
In other words, customers who report defects must have damaged the bike themselves — and by making a warranty claim, they're trying to get something for nothing. This is another way of saying "we don't stand behind our bikes because there could only be a problem with them if the customer abused them in some way."
Conventional wisdom for quality products is that the company stands behind its products, and with the exception of egregious misrepresentations, the customer is always right. The Rivendell product quality approach seems to be "we don't stand behind our products because you can't fool us by claiming that you received a defective product." Well, this is certainly new and different, but I would never buy anything from a company with this attitude — or one that doesn't offer a clearly spelled out warranty policy.
The same attitude can be seen on their help page where they talk about their product guarantee: "Truly defective merchandise is rare." This is untrue. Everything that is manufactured has a defect rate associated with it; some products have a higher defect rate than others. Again, they are claiming to not sell anything that is defective, so any customer who complains is in the wrong.
This notion is driven home by the following inexcusable remark: "Over the years we've come upon some interesting folks whose recreation and social life seems to center around returning merchandise, which forces us to say: We reserve the right to not sell to you, if we suspect we're just playing catch or for any other reason. But for the rest of you, we want you to be happy, and will do all we can to make sure that happens."
Having done a brief stint in retailing during my student years, I possess some firsthand experience of customer behavior. I believe in providing outstanding customer service; it is the hallmark of a superior company.
In my experience, other than a few mentally ill people (literally) who make unreasonable demands, it is very rare to encounter a customer whose "recreation and social life seems to center around returning merchandise." Some people have higher standards for what constitutes acceptable merchandise and complain about workmanship or materials that the typical "Made In China" shopper would accept without question.
Such a negative characterization of customers is insulting at best and discriminatory at worst. This is particularly true with respect to the threat attached to the behavior of returning merchandise: "We reserve the right to not sell to you, if we suspect we're just playing catch or for any other reason."
So what are the other reasons besides one's propensity for returning merchandise? Being a woman who "doesn't know what she's talking about?" Being a racial minority whose "type" is frequently engaged in criminal activity? Who defines the "legitimate" reasons for refusing to sell to a customer, and where does it end?
What started as curiosity about a bicycling book led me to consider other factors besides bicycle racing's bad influence on bicycles, equipment and attitudes. For example, the condescending and sanctimonious attitude of some higher-end bicycle manufacturers may turn off average customers. Maybe Mr. Petersen should consider how his own attitude and business policies affect public perceptions about cycling and trends in the bicycle industry.
After all, even the stock Rivendell bikes (made overseas) sell for $2,200. These are not cheap bikes. And, they have no warranty. The custom framesets begin at $3500, and they have no warranty either. A customer must buy these bikes at his or her own risk. Without a warranty, repairs on a bike that is only a year or two old can be quite costly. Is this scenario consistent with Petersen's claim that bicycles are "toys" whose riders should "emulate kids and other 'Unracers' — people who bike for fun and not profit?" Hardly.
Many factors drive bicycle industry trends. Bicycle racing may be one of them. Customer service and general attitudes towards cycling customers may be another. Whenever espousing a philosophy, one must consider the big picture. That is where Petersen's writings fall short. His views are unidimensional. Perhaps in the sequel to "Just Ride" — or in real life — he will consider the role bicycle manufacturers play in driving average people away from cycling, along with anything else that may be a contributing factor in preventing mass participation in cycling.